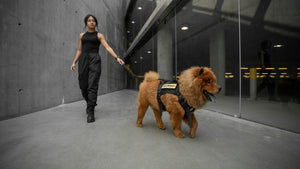 WE CARE ABOUT WHAT OUR PETS WEAR
WE PUT IMPORTANCE IN THE MATERIALS WE USE FOR OUR PRODUCTS | It's a standard of ours to make sure that we deliver. We look at making things easy and convenient for both dog and owner, and with backgrounds in both fashion and fine arts we look at combining utility with the clothing. Function with form.
YOU + DOG / GO AGAINST THE WORLD
A kin adventure. It wasn't until after both my sister and I got dogs around the same time. I've always imagined befriending a chow-chow because of it's bear like qualities. I had a special teddy bear that I kept with me for some time. My sister on the other hand adopted a pug.
Now the idea behind Nin was to feature the aesthetics of the ninja ideology. Sleek, dark, sharp, hoods, nonchalant and visually appealing. It also stands for "No Intro Needed". In this case, our doggos need no intro!
We think all dogs should never be leashed. But when they need to be, at least make sure it's comfortable for the dog, and if it looks cool, that's a plus.
QUALITY IN EQUALITY
Our Nin hoodies are soft, warm and comfortable. Available in multiple sizes ranging from teacup to small horse.
SHOP HOODIES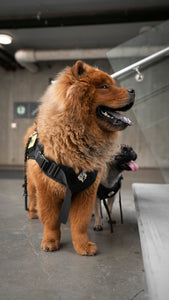 JOIN THE MOVEMENT // ENJOY THE MOMENT
YELLOW the color of happiness, optimism, enlightenment, sunshine and friendship.

NIN (No Intro Needed) -
Our dogs all teach us many things, mostly about ourselves. They are one of the only creatures capable of giving you back unconditional love, and in return we should be the same towards them. Ever since I brought home the little lion bear, I've needed to restructure my whole life to give him the best possible one. And like many forwardly assume, having a dog is comparable to taking care of children. No arguments there. But at the same time, even dogs have misconceptions about them, like how people are light to judge just by a quick glance. True, the book cover is meant to give you a small idea of what's inside, but is also supposed to intrigue you and make you question enough to pick it up. That's what we want our unique dog accessories to do for us as well. To speak about our idioms in our absence. Or really, let our doggo's do all the talking.

"True happiness is found in simple, seemingly remarkable things."
N I N N I N N I N
| URBAN PUPPY STREET WEAR |
Jonah geared up with the Nin Tactical Vest and Leash set.
+
Millions of people who otherwise would be
completely lost in their minds and in endless past
and future concerns are taken back by their dog or cat
into the present moment, again and again,
and reminded of the joy of Being.
+
- ECHKART TOLLE